Reach International Ministries
Missionary Training Program

Prior to commencing our formal training program, missionary candidates must have successfully completed the full Candidate Application Process (CAP). CAP includes the Reach Initial Interview, Preliminary Application package, and Formal Application package.

Our Missionary Training Program consists of four phases of training.

Phase 1 - Reach Operational Candidate (ROC) Training
ROC Training is entrance-level academic preparation for missionary service with Reach International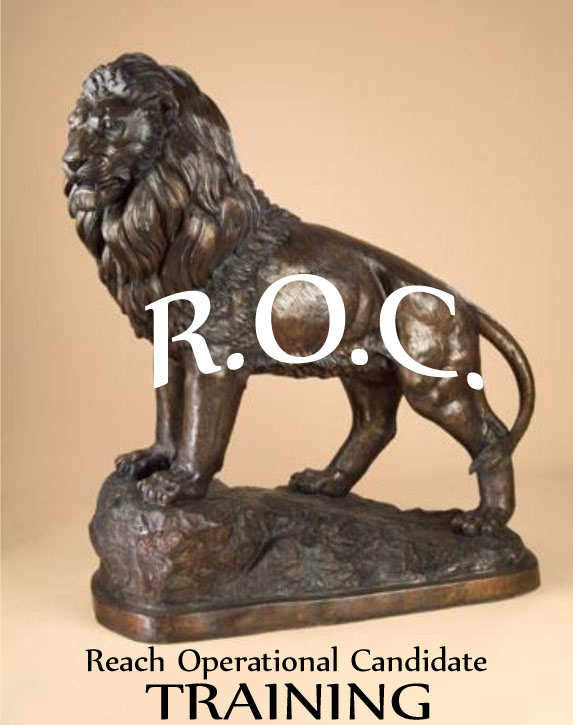 Ministries. This is our foundational course upon which the candidate's relationship, further training, and ultimate ministry with Reach is built. We schedule and conduct ROC Training on an as-needed basis.
The purpose of the week-long ROC Training course is to orient missionary candidates to the Reach philosophy and practice of pre-field ministry (traditionally called "deputation") and foreign-field ministry. ROC Training provides foundational material as well as hands-on methodology through lectures and practical exercises.
ROC Training provides knowledge and skills in three primary areas:

1. Orienting the candidates on Reach philosophies, policies, and practices of ministry. These lectures and exercises introduce Reach as a mission agency. We then provide sufficiently detailed instruction on our policies and procedures, including how we process, account for, and expend support funds as a missions agency and as individual missionaries. We also provide brief instruction on applicable critical life and ministry skills such as missionary ethics, stress management, and ministry organization.
2. Preparing the candidates for their Pre-Field Ministry, traditionally or commonly called "deputation". This area covers such practical matters as establishing and developing relationships with potential partners, developing effective presentation materials (including oneself), and writing effectively. We tend to tailor this training to the candidates' situation. For example, if the candidate is going to be self-supporting, such as being a "tent making" missionary, then parts of this training are streamlined.
3. Initially preparing the candidates for their eventual Foreign-Field Ministry. In this area we introduce key aspects of living and ministering on the foreign field with particular attention to cultural challenges. This is, of necessity, only a general introduction to Foreign-Field Ministry. We also cover some key aspects relating to Homeland Ministry, traditionally or commonly called "furlough".
We give each Candidate couple or single student their own copy of the Reach Missionary Handbook containing all of the information presented in the course along with some supplemental material for reference later.
Missionary candidates are authorized to present themselves as "being with" Reach only after successfully completing the Reach Candidate Application Process and Reach Operational Candidate Training.

Phase 2 - Field Survey Training

Field Survey Training usually consists of a two-to-four-week trip to one or more countries or locations of interest to the missionary, preferably accompanied by one or more Executive Leadership Team members or other veteran Reach missionaries.
It is intended to aid in three primary areas:
Confirming the candidate's spiritual calling to the missionary ministry,

Providing a basis of personal knowledge and credibility for the candidate in preparing for and presenting their ministry, and

Determining eventual Foreign-Field location.
This phase of training is intended to be conducted within a year of the missionary's completion of ROC Training and in advance of their expected departure to their Foreign-Field location.
Second, or follow-on, trips may be conducted if circumstances warrant it and it is financially feasible.

Phase 3 - Field Internship Tour (FIT) Training

We offer, encourage, and in some cases require an internship with one of our veteran missionaries.
FIT Training is intended to aid our missionaries in three primary ways:
1. We have found that the "survival rate" of new missionaries is greatly enhanced by serving such an internship.
2. It enhances their credibility with potential support partners.
3. It also enhances or expedites their ministry success as they establish their own ministry.
FIT is conducted in a Foreign-Field Ministry location under the oversight and mentorship of a veteran Reach missionary, normally for a period of six to twelve months. It is intended to be conducted in a location as similar to the intern's planned Foreign Field Ministry as is available. A veteran missionary may not be available in the same country as the intern's "target" country, but every effort will be made to match it as closely as possible.
Where possible, the mentor will help arrange a "tentmaking" employment opportunity for the intern to help reduce the amount of support needed to fund the internship.
The veteran mentor indoctrinates the newcomer intern to the foreign culture and living conditions. As the interns get acclimated, the mentors introduce them to applicable ministry methods for the location. As the interns gain experience, capabilities and confidence, the mentors step back and give them greater autonomy.

Phase 4 - Ongoing Professional Training

Ongoing Professional Training ("Pro Training") is intended to facilitate development and renewal of the missionaries and their ministries. As many members of "Team Reach" as are able to attend should do so in order to maximize the benefits of the training across the agency.
Pro Training consists of conferences and seminars conducted in a "retreat" setting at a Homeland Ministry, Foreign-Field Ministry, or third-party location. By "third-party" location, we mean someplace where no Reach personnel currently serve so that everyone can experience a "getaway" from the distractions and pressures of their normal place of service.
It is intended as a "rendezvous" of Reach missionaries to promote team building, the open exchange of ideas and methodologies, and general process and organizational improvement for the entire agency.